about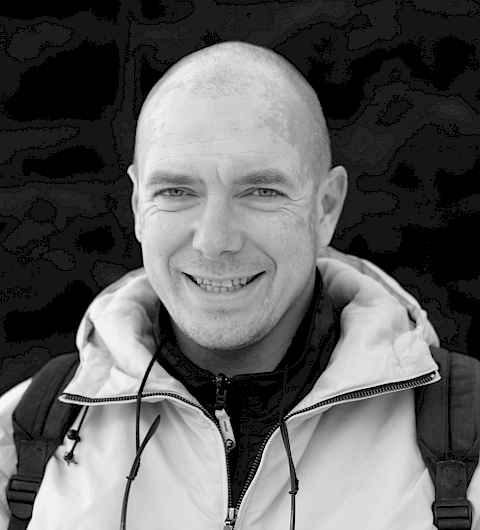 Michael Reisch studierte Fotografie und Bildhauerei an der Rietveld-Academy Amsterdam und an der Kunstakademie Düsseldorf, Abschluss Diplom. Seit 1996 Arbeit als freiberuflicher Architekturfotograf. Europaweite Tätigkeit für Architekturbüros und Unternehmen. Veröffentlichungen in zahlreichen renommierten Fachzeitschriften. Seit 1996 außerdem Ausstellungstätigkeit als Bildender Künstler, seit 2013 nebenberufliche Professur für Fotografie und Digitale Medien an der Alanus-Hochschule Bonn-Alfter. Auftragsarbeiten weltweit ausgestellt u.a. in Berlin, Madrid, Kopenhagen Mailand, Mexico-City, Buenos Aires; künstlerische Fotoarbeiten in öffentlichen Sammlungen Kunstmuseum Bonn, LACMA Los Angeles, National Galleries Edinburgh, Fotomuseum Winterthur u.v.a., lebt und arbeitet in Düsseldorf./
Michael Reisch studied photography and sculpture at rietveld-academy, Amsterdam and Kunstakademie Düsseldorf, degree diploma. Since 1996 work as free-lance architectural photographer. Europe-wide assignements for architects and companies. Publications in numerous renowned professional journals. Since 1996 in addition exhibition practice as visual artist, since 2013 part-time professor for photography and digital media at Alanus-Hochschule Bonn-Alfter, Germany. Assignement-work exhibited worldwide in Berlin, Madrid, Kopenhagen Mailand, Mexico-City, Buenos Aires etc.; aristic photowork in public collections Kunstmuseums Bonn, LACMA Los Angeles, National Galleries Edinburgh, Fotomuseum Winterthur etc., lives and works in Düsseldorf, Germany.
seit 2015 Ausserordentliches Mitglied BDA Bund Deutscher Architekten / since 2015 extraordinary member BDA Bund Deutscher Architekten
Lehre / teaching
Professor für Fotografie und Digitale Medien / Professor for Photography and Digital Media; Alanus-Hochschule, Bonn-Alfter
Referenzen / references
Referenzen/references: brandlhuber+, bk+, Bolckmans, Busse und Geitner, BTAD, Concepta Projektentwicklung, Daimler Real-Estate, Damrau+Kusserow, DDJ Döring Dahmen Joeressen, Dierks Blume Nasedy, Georg Döring Architekten, Eller und Eller, Marc Eller Archirekten, EON, ERGO (Victoria)-Versicherung, E-Plus, Geitner Architekten, Grillo, HBB Projektentwicklung, Hoch-Tief, Hoermann, IKB-Bank, ksg-architekten, Landeszentralbank LZB, McCann-Erickson/Deutsche Bank, METRO-Group, Moderne Stadt Projektentwicklung, MSM, NPC, Prof. Ursula Ringleben, Prof.Gernot Schulz, pier 7, HPP, RKW, Phase 5, Schmeing Bau, Siemens, Staatliches Bauamt BLB NRW, Carl Stahl, Velux, Prof.Zamp-Kelp, u.v.a.
Veröffentlichungen Zeitschriften / publications magazines: Arch+, Architecture+Urbanism, AIT, Architektur Aktuell, Arco, Architektur und Bauforum, Arquitectura Viva,
Baumeister, Bauwelt, Daylight and Architecture, db, de Architect, Diseno Interior, Domus, Geo, DBZ, Space and Design (Tokyo), Schöner Wohnen, Techniques et Architecture, Wallpaper, World Architecture, u.v.a.
Veröffentlichungen Bücher / publications books: Deutsches Architektur Jahrbuch, DAM, 2010; Deutsches Architektur Jahrbuch, DAM, 1997(Titel); Deutsches Architektur Jahrbuch, DAM, 2004; International Yearbook, "Award Winning Architecture", 1998-1999; "Die besten Einfamilienhäuser", Callwey Verlag; "ZeitZeichen, Victoria-Kunst und Architektur", Victoria Versicherung, 1999; "Strenge schwerelos", IKB Bank, 2004; "Neues Quartier Vulkan.Köln", Jovis Verlag, "Die Schwanenhöfe", 2014, u.v.a.
Ausstellungen / exhibitions: Beteiligung "Neue Deutsche Architektur.Eine Reflexive Moderne", Gropiusbau Berlin, Mailand, Kopenhagen, Madrid, Porto, Mexico City, Buenos Aires, Sao Paolo, 2002-2006, Beteiligung "Metamorph", Architektur Biennale Venedig, Deutscher Pavillon 2004, Architektur Biennale Venedig, Deutscher Pavillon, 2006, Architektur Biennale Venedig, Deutscher Pavillon, 2010. Exhibitions artwork: www.michaelreisch.com